« You Are Not A Gadget: My Review | Main | Go the dome »
May 05, 2010
Detours & Destinations at the Sydney Opera House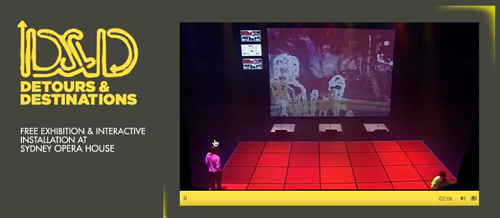 You can do an awful lot with interactive digital technology nowadays. The real challenge is to make the interactions meaningful. For this week's Detours & Destinations show at the Sydney Opera House we want to engage people through a variety of interfaces and respond in a meaningful way.
Incoming SMS and Twitter messages are not only displayed onscreen in the Sydney Opera House Studio, they are also interpreted as instructions. .
Each message is checked against a list of 'control' keywords that can trigger different actions. Combinations of keywords result in a sequence of actions. Think of it as a very simple form of programming.
e.g. "Miimali Game Stars in the house. We like!" contains the keywords "house" and "we" and trigger different animations.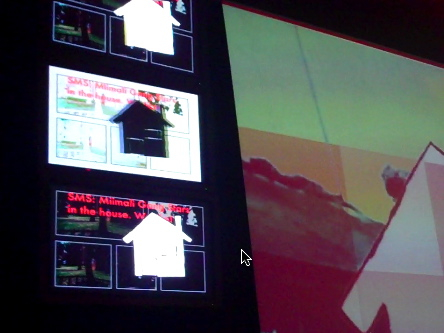 e.g. "red green blue crossroads" are all keywords. Onscreen colour changes three times and then an animation is played.
I've built a little iPhone app rig so that we can quickly add new controls based on what's going down.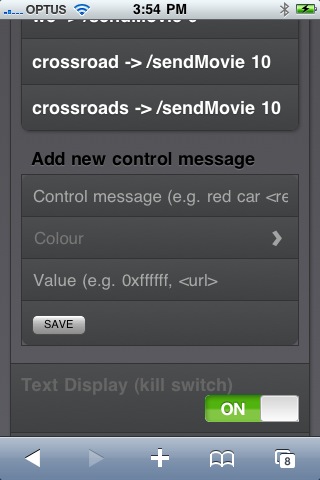 Come and drop by the Sydney Opera House Studio or tune into the web cast.
See the current list of control keywords.
Posted by .M. at May 5, 2010 08:25 AM
Trackback Pings
TrackBack URL for this entry:
http://thequality.com/mt/mt-tb.cgi/627
Comments
Post a comment